Did you know that the Madison area limo services provided by AJ Prestige can provide an excellent way for the corporate traveler to be better prepared to meet the next great business opportunity? Oprah Winfrey once said "luck is a matter of preparation meeting opportunity." Luck is not a haphazard circumstance, or a stand-alone act that just happens to someone. It can be said that luck is the place where planning and training meet up with opportunities that present themselves. This means that a certain portion of an individual's luck is really in their own hands; the whole notion of being prepared would seem to be the foundation of the concept of luck. An individual's ability to plan a course of action and be prepared for any set of circumstances that may come their way will set the tone for both good and bad luck.
This is a great way to look at a business, especially in this age of the global marketplace,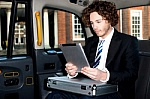 where competition is tough. Clients have more and more choices and today's challenge is to find ways to stand out in that vast global marketplace. Being prepared is not just a tenet of the Boy Scouts; preparation can help create new opportunities, or enable us to identify new opportunities. It is one thing to be prepared and to have exciting new opportunities presented to us, but if we choose not to take advantage of those new opportunities for fear of failure, what does that say about luck? If we are not willing to take risks and to test the waters of a new opportunity, how will we grow and learn or how will we tap into that one thing that will help get noticed in the global marketplace?
At AJ Prestige, we can help you, the busy corporate traveler, stay prepared and organized as you focus on those all-important business opportunities. We offer the best in corporate sedan services in the Madison, Milwaukee, and Chicago areas.
Do you have several meetings at multiple sites? Our professional and knowledgeable drivers will ensure your prompt arrival at each important destination, by providing driving services in the Madison, Milwaukee, and South Central Wisconsin areas. We understand the importance of your travel itinerary, no matter how complex it may be. Whether it is a limo from Madison to Milwaukee, or Milwaukee to Chicago, AJ Prestige can offer you the comfort and privacy of a superior limo ride that will ensure a productive setting as you travel to your various meeting points for the day.
Is your company hosting an event? Let AJ Prestige provide the airport ground transportation for your all-important clients. Our professional and courteous drivers will greet your clients at the airport and drive them to your event destination. This provides you and your company with a reliable corporate transportation specialist, freeing you up to concentrate and prepare for your event. An added plus, is the continuity of knowing who will be providing your transportation needs. Providing your clients with our solidly professional chauffeur services, will not only impress them, but can also lead to creating new opportunities with your clients, because they will know that you value your relationship with them to provide the very best in transportation needs.
Need a last minute team meeting on your way to or from the airport? Our SUV or town car limo services are perfect for accommodating the travel needs of your business team, while also enabling you to focus on some last minute strategies while en route to your destination.
At AJ Prestige, we pride ourselves on being prepared, and the focus of our preparation is to exceed our clients' expectations. Customer satisfaction means we pay attention to the details; whether it's limousine service to get you to and from the Madison, Milwaukee, or Chicago airports, or a corporate event requiring transportation for your business, AJ Prestige knows that great preparation sets the tone for that all important business opportunity.
Call AJ Prestige today to let us know how we can be your corporate sedan and limousine service of choice in the Madison, Milwaukee, or Chicago area. For your Madison limo service call 608-338-5800. For your Milwaukee corporate travel needs contact us at 414-376-6868.
Let AJ Prestige help you assess your transportation needs. Click here to Request a Free Transportation Assessment.

And don't forget to check out the Six Questions to Ask before booking your next limo service.