Did you know that hiring a limo service can help make holiday traveling both stress-free and stylish? Are you looking for ways to put the Ho-Ho-Ho back into your holiday travel this year?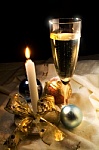 What do the following all have in common?
A. Stress-free airport ground transportation
B. Worry-free holiday party travel
C. Family togetherness
If you said limousine services, then you are correct. Check out the many ways that AJ Prestige can help make your holidays less stressful for family, friends, and employees as you make your holiday travel plans. From office parties to holiday family celebrations, let AJ Prestige show you how to make this time of year more festive for your travels.
Stress-free airport ground transportation can be a reality when you hire AJ Prestige as your limo provider of choice in the Madison, Milwaukee, and Chicago areas. With our guaranteed on time arrival, you will never have to worry about waiting in line at the airport ground transportation section of the airport, or riding in the rental car shuttle and waiting in line at the car rental desk. When you schedule an airport pick up with AJ Prestige, you will be picked up on time, or it's free. If your flight is late, you never have to worry about family or friends driving around and around the airport waiting for your plane to finally arrive. The professional chauffeurs at AJ Prestige will monitor your flight status and be there to pick you up. What can be more stress-free than that?
Worry-free holiday party travel can also be yours when you take advantage of the many limo options and services offered by AJ Prestige. Whether it is a group of friends attending several holiday parties for the evening, or co-workers attending the holiday office party, AJ Prestige can accommodate holiday party-goers be it one person or many people. When you choose our limo service it does not matter if there is one person or a larger group; you are charged for the limo service, not per person, so choosing to be chauffeured to your next holiday gathering is also very cost effective when a group can share the cost of the limo service. If you are a business owner, why not arrange to have your employees driven to your company holiday party in style and let our trained and professional chauffeurs be your designated driver for the evening?
Family togetherness can also be yours when you hire a limo service to take you over the river and through the woods to grandmother's house for the holidays. AJ Prestige can pick up family members from multiple addresses and enable you and your family to ride together in the comfort of one of our luxurious limos. Our Lincoln Navigator is the perfect vehicle to transport family and packages to a family holiday gathering. Our courteous and reliable chauffeurs can help with loading and unloading your packages. You will be treated like royalty and not have to worry about traffic and will arrive at your holiday celebration much more relaxed and in a festive mood.
Now is the time to call AJ Prestige to see how we can help make your holidays more festive as you gather together for the many celebrations that are upon us at this time of year.
Let AJ Prestige be your designated driver this holiday season. For Madison limo services, call us at 608-338-5800. For limo services in the Milwaukee area please contact us at 414-376-6868.
And don't forget to check out the 6 Questions to Ask Before Booking a Limo Service. Click here for our free guide.