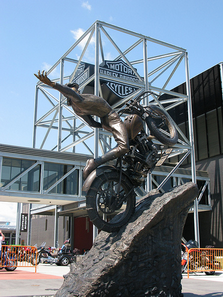 This year there's only one place to be the weekend of August 29th – September 1st. That place is Milwaukee, Wisconsin for the show-stopping Harley Davidson 110th Anniversary Celebration going on all weekend long!
This classic event kicks off Labor Day weekend with an unforgettable bang and includes special events like concerts from sixty different bands (including Aerosmith, Toby Keith, Cheap Trick, John Fogerty, Kid Rock, Lynyrd Sknyrd and ZZ Top), the lightweight title fight (featuring Milwaukee's own Anthony Pettis) and a custom bike show designed to thrill first-time attendee's and returning bikers alike. Ticket prices and all other important registration information can be found by visiting the event website.
If you're like many of the attendee's and will be flying in to attend the event than we have a solution to (temporarily) replace your typical mode of transportation; your beloved Harley. AJ Prestige Worldwide Transportation specializes in providing prompt and efficient Milwaukee Limo. Our courteous, professional drivers are available all weekend long to chauffeur you between events and, in any spare time you have, help you see the city.
To simplify your travel arrangements, hire our chauffeues. We'll ensure you don't miss a second of the action at the 110th anniversary celebration. contact us to ask about pricing and to arrange transportation for all your travel needs. We guarantee prompt, efficient, on-time service (otherwise it's free!) and look forward to helping you make it right where you belong, in the middle of all the action!
photo credit: Al_HikesAZ via photopin cc