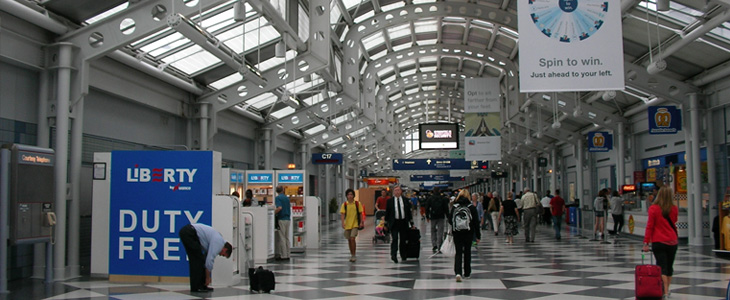 What Kind of a Limousine Company Is AJ Prestige Madison?
AJ Prestige Limousine is a premium black car rental company near my location with a long history of service in Madison. For many years now, this team has catered to the needs of both leisure and business travelers to and from the airports, at the best rates in the area. Which airports you ask? All of them! From ORD to MKW and (of course) our near and dear MSN. You can trust AJ Prestige Limousine to deliver a reliable, efficient and safe transfer in luxurious vehicles (just check out this fantastic fleet) every time you are traveling to or from O'Hare Airport (and all the others airports of course)!
How Do I Get from Madison to O'Hare Airport (ORD)?
Getting to O'Hare Airport is made easy with our team of industry experts who plan your Madison limo ride near ORD carefully and execute it perfectly. Who wouldn't want a peace of mind and a dependable car service when catching a flight? Rest assured that AJ Prestige Limousine employs a team of fully licensed and trained transportation professionals, who will rise to the occasion! AJ chauffeurs will go out of their way to ensure your needs are met regardless if you booked us on hourly or point to point basis, or if you picked a sedan, SUV or VAN. All our cars are equipped with sophisticated software that allows our chauffeurs to monitor live data regarding departure and arrival times. This gives us the ability to act promptly and ensure a vehicle is always ready, even in the case of unplanned events such as aircraft delay.
Why Do I Need an ORD Limo Service near Me?
Because you want the highest level of comfort and luxury, right? And with us, you'll get nothing less than spotlessly cleaned and polished cars every time you're on your way from Madison to Chicago, from ORD to MKW or MSN. Whether your traveling because of a roadshow, wine tour night on the town or prom, AJ Limousine Madison Town Car Service near O'Hare, will show you the way. If you so desire, you can add a few extra options, such as our Meet and Greet Service for those clients who want additional care at the airport, with the chauffeur meeting the client inside the airport terminal and assisting them to the vehicle. Making your travels pleasant the main reason why AJ Prestige Limousine team is always close by!