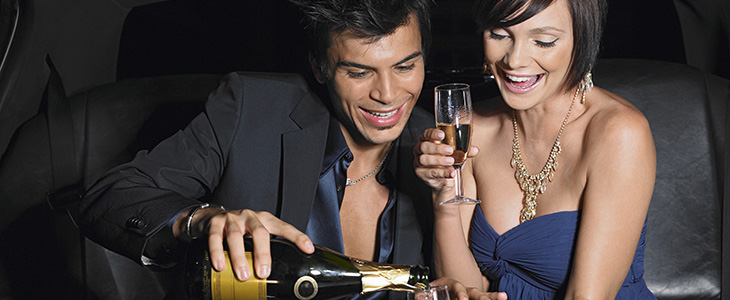 Planning a night on the town? Let our team of industry experts make your transportation enjoyable and allow us to get you comfortably across town, making as many stops as you'd like. Spend a night out and enjoy Madison's robust night life. Whether you start off with a group dinner at your favorite restaurant, followed by a few drinks at a bar and dance the night away in some of Madison's vibrant clubs, our Night in the Town Madison Service is a perfect solution for your transportation. We invite you to speak to our friendly staff and we'll help you plan your night to perfection. With our professional driver behind the wheel, take all the time you need and enjoy our luxurious door to door service next time you head out for a night of fun and entertainment. Enjoy Madison at its finest with your private chauffeur.
An Elegant Fleet
Here at AJ Prestige we are proud of our beautifully appointed quality vehicles. For your next night in the town, choose form our luxurious Lincoln Town Car Sedans, elegant Lincoln Limousine by Tiffany or the powerful SUV Lincoln Navigator. Our vehicles boast superior quality interior with soft leather seating and plenty of room to stretch your feet. Interior lighting, built in coolers, DVD and CD players and contemporary design are just some of the features you'll find inside our sleek limousine that easily accommodates up to 8 passengers. Get your group of friends together and enjoy an unforgettable night when you come on board our classy vehicles. We take great care in the presentation of our fleet and you can expect nothing less than spotless and perfectly polished cars inside and out.
Superior Level of Service
Our service is delivered by some of the finest chauffeurs in the industry. All our chauffeurs are fully licensed and highly trained to provide you the highest level of service. You'll find that our drivers are passionate about their work and that our commitment to customer satisfaction shines through in our Night in the Town Madison Service. When you head out for a night of fun, don't worry about designating a driver, navigating through congested traffic or finding a spot to park, let our professional chauffer take care of that. Sit back, turn up the music and enjoy your night with our driver always ready to collect you when you are happy to head back home. Getting home safely should also be on your mind when you plan a late night and our Night in the Town Madison Service provides the safest method of transportation for you and your friends. We look forward to making your night out the most enjoyable and fun you've had.